金子貴昭
1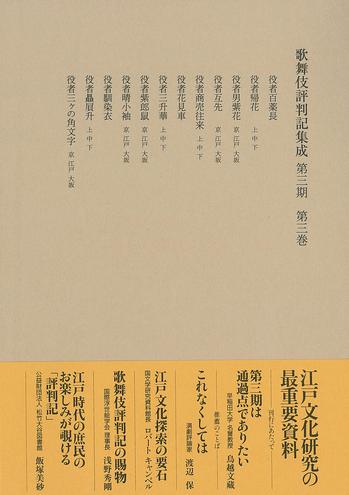 Collected Kabuki Hyobanki, Third Period, Volume 3: From An'ei 7 to An'ei 10
Edited by the Yakusha Hyobanki Publication Society
456 pages. ISBN: 978-4-7576-0946-4.
Published by IZUMI SHOIN, February 20, 2020.
¥16,500 (incl. tax)
Yakusha Hyobanki is a book of art reviews of Kabuki actors that has been published continuously for about 200 years from the mid-17th century and is an important resource for the study of Edo culture, including early modern theater, ukiyo-e, literature, language and publishing.
This collection, which transliterates the Yakusha Hyobanki based on a strict revision, has made a significant contribution to the progress of Kabuki research.
The third period continues to follow the principle of the second period and includes about 110 works from the An'ei era to the Kyouwa era.
The first volume, published earlier, covers the years from An'ei 2 to 4 and the second volume covers the years from An'ei 5 to 7.
_______________________________
Members of the Yakusha Hyobanki Publication Society:
Ryo Akama / Megumi Arai / Akira Ikeyama / Yoko Kaguraoka / Takaaki Kaneko / Masae Kurahashi / Yoko Kuroishi / Chie Saito / Katsura Sato / Mizuki Takusagawa / Takashi Noguchi / Kayano Mizuta / Shinya Mitsunobu
Advisors: Kyozo Takei / Mamoru Tsuchida / Bunzo Torigoe / Michio Hara / Yukio Hattori (deceased) / Hitoshi Matsuzaki (deceased)
External link: http://www.izumipb.co.jp/izumi/modules/bmc/detail.php?book_id=129622&prev=new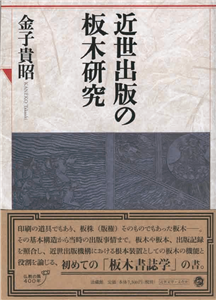 金子貴昭著
A5判 324頁 2013.02 978-4-8318-6223-5 法蔵館 税込8,100円

 印刷の道具だけではなく、版権の所在をも示す機能をもつ板木。その基本構造を解明し、板木の新たなる観察手法を提示するなど、今後の出版研究の基礎となりうる板木書誌学を初めて提唱する画期的書。第35回日本出版学会賞奨励賞受賞。
External link: http://www.hozokan.co.jp/cgi-bin/hzblog/sfs6_diary.cgi?action=article&year=2014&month=05&day=21&mynum=1598