The Sumo Digital Institute has been launched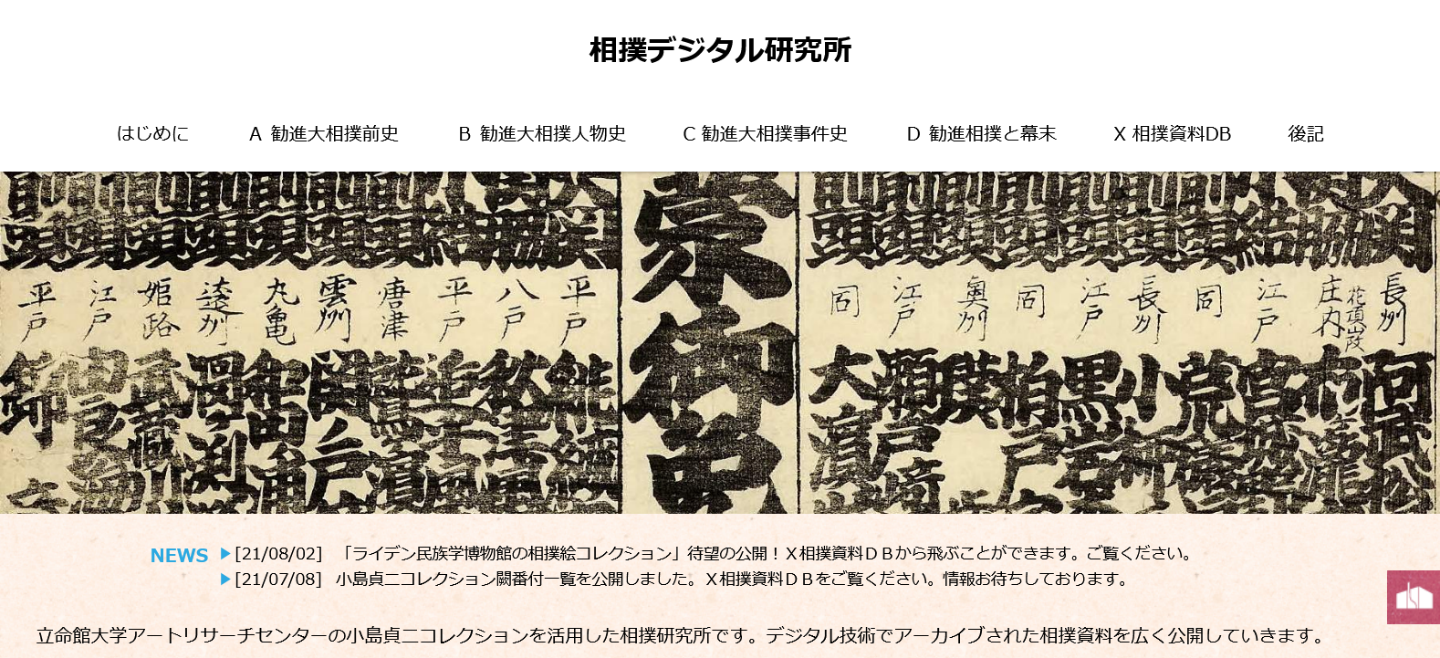 The Art Research Center (ARC), Ritsumeikan University, is pleased to announce the launch of the Sumo Digital Institute within the ARC Virtual Institute, along with the release of the online database of the Teiji Kojima Collection--a treasure trove of sumo banzuke and old sumo documents.
The ARC has been working to create a digital archive of materials related to the history of sumo collected by the late Teiji Kojima, a renowned scholar of sumo history. Along with the release of his collection in June, we decided to publish the results of our research in sumo history under the Sumo Digital Institute.
The Teiji Kojima Collection consists of approximately 1,000 paper documents and dozens of volumes of old sumo-related materials, mainly sumo banzuke, covering a total of 264 years from 1742 (mid-Edo period) to 2006. These digital images are now accessible online at any time.
In addition to browsing the digitized materials, the Sumo Digital Institute offers an online exhibition. It is an attempt to bring to light the many facets of Edo-period kanjin-zumo tournaments by picking up sumo-related articles from the Bukō nenpyō--a compilation of Edo-period events in chronological order--and linking them to sumo banzuke related to the events from the Teiji Kojima Collection, ukiyo-e prints in the Ukiyo-e Portal Database, and materials from the Early Japanese Books Database.
We hope that this online exhibition will encourage people to take an interest in the world of kanjin-zumo that is very different from today.
The exhibition not only links to the Kojima Collection but also to sumo paintings in the Japanese Collection of the Museum Volkenkunde, Leiden, available in the ARC Virtual Institute.
The ukiyo-e paintings that traveled to the Netherlands as soon as they were published are beautiful and well-preserved, retaining their original colors. We hope you enjoy them.
The Sumo Digital Institute strives to collect a wide range of visual data and literary materials about sumo from the Edo period to the modern era and make them available to the public through a digital archive. We hope to raise the public's interest in sumo by releasing these rare sumo materials. [Person in charge: Nozomu Ataka]