The Art Research Center (ARC) launches The Gion Festival Digital Museum from July 1 - 31, 2020
Due to the spread of the new coronavirus, the Gion Festival in Kyoto, one of the biggest and most important festivals in Japan celebrated for more than 1,100 years, will take place on a much smaller scale this year as the grand Yamahoko Junkō parade and other related events have been canceled.
Despite this situation, to provide an opportunity to learn about and experience the Gion Festival, the Art Research Center's International Joint Digital Archiving Center for Japanese Art and Culture (ARC-iJAC) at Ritsumeikan University, in cooperation with the College of Letters, will be launching "The Gion Festival Digital Museum: The Past, Present, and Future of the Gion Festival" from July 1 - July 31, 2020, on its website.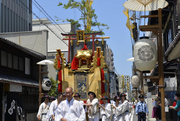 The Gion Festival, which usually takes place in Kyoto in the same month, is widely known in Japan and abroad as one of the three major Japanese festivals. The Art Research Center (ARC) provides an online platform where its research results on the festival so far are published so that people around the world, who are interested in Japanese culture, can deepen their understanding of the Gion Festival by virtually experiencing it.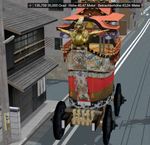 On the ARC's website, 2D and 3D maps of the Gion Festival and videos of a virtual Yamahoko Junkō, the magnificent procession of decorated floats and the crowning event of the festival, will be made available. Besides, one can discover the three-dimensional, see-through visualization model of the Hachiman-yama float, one of the festival floats, with new perspectives otherwise invisible to the human eye. Furthermore, the Byobu Matsuri, or Folding Screen Festival, at the Nagae Family Residence, a Kyo-machiya designated a cultural property by the city of Kyoto, will be exhibited in the virtual space.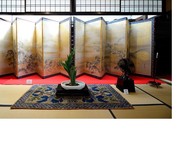 By digitally archiving traditional events such as the Gion Festival and making them accessible to the broad public, the ARC is dedicated to research, analyze, record, organize, preserve and disseminate the tangibles as well as intangibles of Japanese cultural and historical heritage to retain their significance for future generations.
Access to The Gion Festival Digital Museum (available from July 1, 2020)
https://www.arc.ritsumei.ac.jp/lib/vm/gionfestivalDM/
Event Schedule
July 1 (Wed), 2020: The Gion Festival Digital Museum 2020 opens to the public (new content to be continuously added after its launch)
July 19 (Sun), 2020: Web event will be held at the Nagae Family Residence (details to be announced on the website later)