Official Start of the Research Project on the 3D Visualization of the UNESCO World Heritage Site of Tamaki Shrine (玉置神社)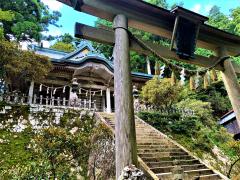 A research project to visualize the UNESCO World Heritage Site of Tamaki Shrine (玉置神社) using the latest 3D scanning technologies, led by Professor Satoshi Tanaka (College of Information Science and Engineering, Ritsumeikan University)--faculty member of the Art Research Center (ARC)--has officially started.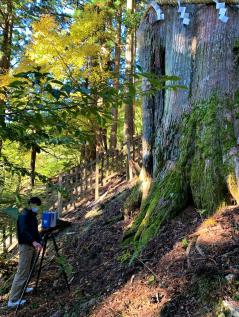 The project is jointly conducted with the Nara Prefectural Government and involves 3D measurement of Tamaki Shrine using drones, terrestrial laser scanners, and 360-degree cameras to take multifaceted measurements.
The beautiful main hall of Tamaki Shrine, the Tamaishi-sha (玉石社), as well as the Jindaisugi (神代杉) cedar tree, said to be 3,000 years old and an object of worship in the precinct, and the shrine office (社務所), designated a national important tangible cultural property, have been digitally preserved. The obtained data will be used to develop visual content as the project continues.
We express our gratitude to the people at Tamaki Shrine for their kind cooperation.
---
Related links:
Official website of Tamaki Shrine (玉置神社) - in Japanese
Interview with Prof. Satoshi Tanaka on Visualizing Large-Scale Cultural Heritage - in English