Professor Adam Habib, Director of SOAS University of London, visits the Art Research Center (ARC)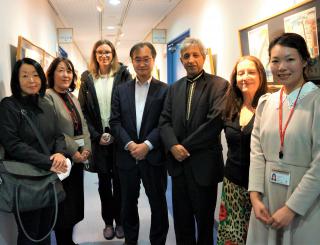 On November 21 (Mon), 2022, Professor Adam Habib, the Director of the School of Oriental and African Studies (SOAS), University of London, visited Ritsumeikan University to meet with Professor Yoshio Nakatani, President of Ritsumeikan University. SOAS is a world-leading institution for the study of Asia, Africa, and the Middle East.
Accompanied by Professor Nana Sato-Rossberg, Chair of the SOAS Centre of Translation Studies and an alumna of Ritsumeikan University's Graduate School of Core Ethics and Frontier Sciences, and Kanina Foss, Chief of Staff, Professor Habib visited the Art Research Center (ARC) as part of this trip where he met with Professor Ryo Akama, Director of the ARC.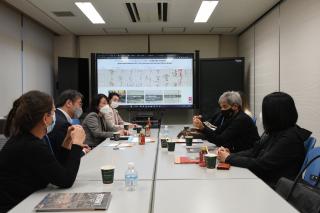 After Professor Akama introduced the international joint research projects of the ARC in digital humanities, including digital archiving projects in collaboration with the British Museum (BM) and faculty members of SOAS, the two of them discussed the possibility of establishing a partnership in digital humanities with a focus on digital archiving the Japanese collection held by SOAS.
Furthermore, Professor Habib was keen on exploring opportunities for future collaboration in video game research, in particular, gaming with a social justice element.
During the meeting at the ARC, Professor Habib praised the center's efforts in digital humanities research and in serving as an international hub for joint research in the digital archiving of Japanese art and culture as he expressed the aspiration of SOAS to serve as a bridge for different, transnational knowledge systems.