[Video available] The Chushingura Ukiyo-e International Symposium was held on Feb 11, 2022
- - - - - - - - - - - - - - - - - - - - - - - - - - - - - - - - - - - - - - - - - - - - - - - - - - - - - - - - - - - -
In collaboration with Ako City, the International Joint Digital Archiving Center for Japanese Art and Culture (ARC-iJAC), Art Research Center, Ritsumeikan University, organized the Chushingura Ukiyo-e International Symposium--Spreading the Legend of Chushingura to the World--on February 11, 2022.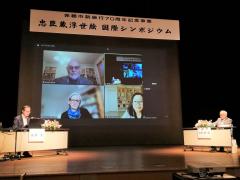 Based on a historical event, Chushingura (The Treasury of Loyal Retainers) tells the story of forty-seven rōnin, or leaderless samurai, from Ako, who avenged the death of their lord.
The symposium began with a welcoming address by the mayor of Ako, Masatoshi Murei, followed by the individual presentations of Professor Satoko Shimazaki (UCLA), Dr. Annegret Bergmann (The University of Tokyo), Kenichiro Ishibashi (Kabuki Researcher), and Professor Ryo Akama (Ritsumeikan University), the current Director of the ARC.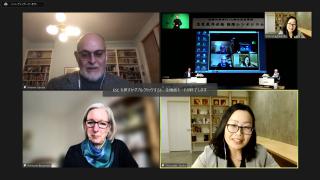 In the second part, Emeritus Professor Andrew Gerstle (SOAS University of London) gave a keynote speech to discuss the question ʻAre the Depictions of Loyalty, Heroism, Tragedy in Kanadehon chushingura universal?'. The symposium concluded with a panel discussion moderated by Prof. Akama.
Ako City and the ARC have been collaborating on the digital archiving of the Chushingura Ukiyo-e Collection held by the city which is available in the Ako City Chushingura Ukiyo-e Database on the ARC website.
Based on the database, digital exhibitions have also been launched in the ARC Virtual Institute, which facilitates developing database operation methods and promoting its utilization.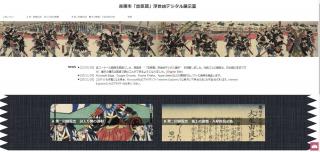 >> Click here to enter the Ako City Chushingura Ukiyo-e Digital Exhibition.
>> Click here for the Ako City Chushingura Ukiyo-e Database.
The symposium took place in the Ako City Culture Hall without an audience to prevent the spread of COVID-19 but was broadcasted online via Zoom.
There were a total of 122 registrations from 15 countries for this event.
- - - - - - - - - - - - - - - - - - - - - - - - - - - - - - - - - - - - - - - - - - - - - - - - - - - - - - - - - - - -
The Art Research Center (ARC) is pleased to announce the Chūshingura Ukiyo-e International Symposium. (*This event is held in Japanese)
Date: February 11 (Friday), 2022
Time: 13:30 Japan Standard Time (approx. 3 hours)
Topic: Spreading the Legend of Chūshingura to the World
Speaker profiles and contents: Download here
<Program>
Part 1:Individual Presentations
Ryo Akama (Professor, Ritsumeikan University)
'Revisiting the 12-sheets series of Chūshingura ukiyo-e focused on Kuniyoshi'
Kenichiro Ishibashi (Kabuki Researcher)
'Reading ukiyo-e of Kanadehon chūshingura from a perspective of the History of Performing Arts'
Satoko Shimazaki (Associate Professor, UCLA)*
'From World to Character: Chūshingura Prints in the First Half of the Nineteenth Century'
Annegret Bergmann (Project Associate Professor, The University of Tokyo)
'Chūshingura of the Meiji period reflected in ukiyo-e'
Part 2:Keynote Speech 
Andrew Gerstle (Emeritus Professor, SOAS, University of London)*
ʻAre the Depictions of Loyalty, Heroism, Tragedy in Kanadehon chūshingura universal?'
Part 3: Panel Discussion
Andrew Gerstle / Kenichiro Ishibashi / Annegret Bergmann / Satoko Shimazaki*
Coordinator: Ryo Akama
*Remote participation
- - - - - - - - - - - - - - - - - - - - - - - - - - - - - - - - - - - - - - - - - - - - - - - - - - - - - - - - - - - -
Organizer:
Chūshingura Ukiyo-e International Symposium Executive Committee
Co-organizers:
Ako City, Ako City Board of Education, Ako Culture and Midori Foundation, Ako Gishikai, International Joint Digital Archiving Center for Japanese Art and Culture (ARC-iJAC), Art Research Center, Ritsumeikan University