An Interview with Dr. Daan Kok (Curator East Asia, National Museum of World Cultures) on the Release of the Digitized Japan Collection at Museum Volkenkunde, Leiden, the Netherlands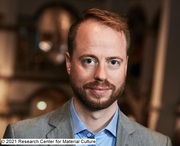 Dr. Kok, thank you very much for your time today. As Curator East Asia, you have been at the forefront of this joint research project with the ARC to digitize the extensive Japanese art collection of Museum Volkenkunde, part of the National Museum of World Cultures.
What sparked your interest in Japanese art and culture?
Dr. Kok: In high school, I once received a book about Japanese design. It raised my interest to apply at a design academy. Not admitted on my first attempt, I began to study Japanese and enjoyed it so much that I never stopped.
During my studies at Leiden University, I became particularly fond of the kyōka surimono of the 1820s.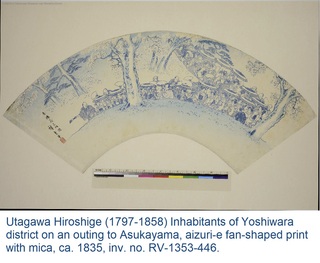 How do you feel about the overall collaboration with the ARC?
Dr. Kok: I am very thankful for our collaboration. The first contact between our museum and the ARC was already established more than ten years ago. During Professor Akama's visits, we would conduct photography together using the 'portable travel kit' he developed to digitize art collections abroad.
The execution of our joint project has never been stagnant, but you can see a continuous improvement year after year. It has also been a valuable learning experience for me to see the mechanisms Professor Akama uses to increase the quality of digitizing artworks.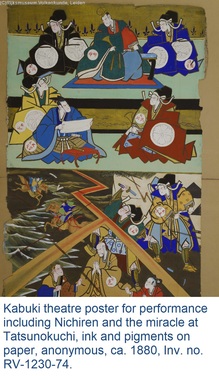 What is the significance of constructing and releasing this database in the ARC Virtual Institute?
Dr. Kok: We need to ensure comprehensive access for researchers to our collection.
Now that we have constructed and interlinked the ARC database with our museum database, the availability of our collection of printed materials to a Japanese-speaking audience is of great significance.
Furthermore, we appreciate the ARC's digital infrastructure for not only searching but also editing the database. The interactivity of the ARC database allows Japanese-speaking researchers to contribute to the database, paving the way for future research.
While our museum database is a more general database for a wide range of objects, the ARC database has a high level of specialization to cater to the specific needs of research in Japanese art and culture, such as ukiyo-e prints and early Japanese books.
Could you tell us a little more about the Japanese collection at Museum Volkenkunde?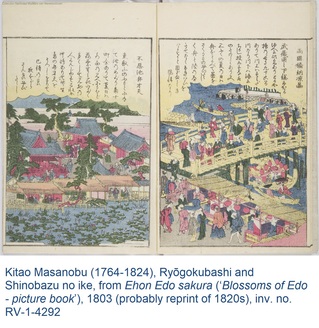 Dr. Kok: The core of the museum's Japanese collection is made up of the collections of Philipp Franz von Siebold, Jan Cock Blomhoff and J.G.F. van Overmeer Fischer.
They were the main collectors in the 1820s--a period of Japan's sakoku (closed country) policy. After they purchased the artworks during their court journeys to the shōgun in Edo, the items came to the Netherlands almost in a straight line and never circulated among other collectors.
Since we know when they made these court journeys to Edo, we have obtained a good overview of what was available during that period and what was of interest to the collectors. The time of purchase also allows us to calculate how much or how little time there was between a kabuki play and the kabuki poster's availability on the market, for instance.
Furthermore, the existence of multiple copies of the same prints makes them suitable for comparative research.
Is there anything that fascinates you about this collection in particular?
Dr. Kok: It is particularly noteworthy that some of the prints are in a quite unique condition. Their colors convey the impression as if they were made just yesterday. Hence, these prints serve as a valuable reference of how prints may have looked originally.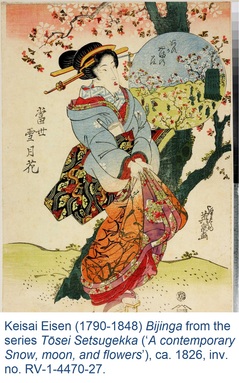 However, due to their exceptional quality, the museum decided that a limited number would not be permitted to go on loan. Therefore, it is even more important they are available to the broad public in digital form through our database.
Could you tell us about your plans or future project goals?
Dr. Kok: I hope to continue to work with the ARC on digitization projects.
While Volkenkunde has the largest Japanese collection, there are interesting Japanese objects at other museums in our organization, mainly the Tropenmuseum (Amsterdam) and Wereldmuseum (Rotterdam), which the ARC has not digitized yet.
Since these Japan collections are not well-known, compared to that of Museum Volkenkunde, it is all the more important that they become available to a Japanese-speaking audience as well. So, we should strive to ensure that links are well established.
Furthermore, with the advance of technology, AI image recognition may provide opportunities to recognize drawings and sketches and match them to certain prints and book illustrations published by Kuniyoshi, Kyōsai, or Hokusai. I also hope to work together with the ARC on this area in the future.
Dr. Kok, thank you very much for your time. We are very much looking forward to continue working with you.
→ Access the database of the Japan Collection at Museum Volkenkunde, Leiden
(This interview was conducted by Yinzi Emily Li.)