The Symposium Gion Festival・Revival of the Takayama Float--Anticipating the Yamahoko Parade 2022-- was held on June 19, 2021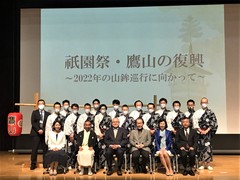 Background
In anticipation of the return of the Takayama float to the Gion Festival in 2022, a symposium was held by Asahi Shimbun, co-organized by the Art Research Center (ARC), Ritsumeikan University, on June 19, 2021.
The Takayama float boasts a long history of participating in the Yamahoko Junko parade that dates back to the 15th century. However, the float has been absent from the festival since 1826, having suffered from heavy damages caused by natural disasters.
As a result of the continued dedication and determination of the Takayama Preservation Association to revive the Takayama float, the long-cherished wish of the townspeople for the float to return to the Yamahoko Junko after nearly 200 years will finally come true.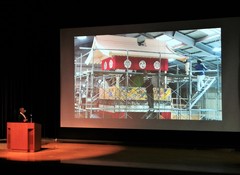 The Symposium
At the beginning of the symposium, Mr. Junji Yamada, Head of the Takayama Preservation Association, gave an overview of the reconstruction progress of the float and expressed his joy that it is due to be completed four years earlier than expected.
Then, Prof. Keiji Yano, Deputy Director of the ARC, introduced the center's various activities concerning the digital archiving of the Gion Festival and the Takayama float (→ Gion Festival Digital Museum 2020 and 2021).
He presented CG animation of the rebuilt Takayama float, 2D and 3D maps of festival routes, old videos and photographs from the early Showa era, and 3D see-through visualization models of the festival floats, amongst others.
"As we did last year, the Art Research Center will be making its research results available to the public again from July this year through the Gion Festival Digital Museum 2021, so please look forward to it," expressed Prof. Yano.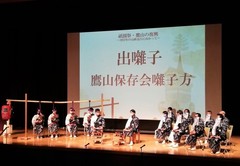 Other distinguished guest speakers included Prof. Shoichi Inoue, Director of the International Research Center for Japanese Studies; Mr. Takashi Minamoto, film director and screenwriter; and Ms. Rieko Morita, Nihonga painter and Affiliate Professor at the Kyoto City University of Arts, with each of them sharing stories about his/her connection with the Gion Festival and the Takayama float.
Concluding the symposium, the hayashikata (Gion Festival musicians) of the Takayama Preservation Association performed ohayashi specific to the float.
Anticipation
"Ever since I was a kid, I have seen the festival floats passing by, accompanied by the creaking of wheels while I stood on the roadside listening to the ohayashi," Mr. Yamada reminisced. "None of us has ever experienced playing the ohayashi on the Takayama float during the festival, so we are all more than excited."
*A full video of the event is available online from July 1 - August 31, 2021 (in Japanese). To watch the video, please register via the following link: https://ciy.digital.asahi.com/ciy/11004163.