The 2nd Ritsumeikan University - Tsinghua University International Academic Symposium on Japan-China Cultural Exchange and New Coordinates for the Humanities was held on May 22, 2021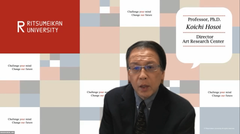 The 2nd Ritsumeikan University - Tsinghua University International Academic Symposium on Saturday, May 22, 2021, focused on Japan-China Cultural Exchange and New Coordinates for the Humanities.
The symposium was jointly organized by the School of Humanities, Tsinghua University, China, and the International Joint Digital Archiving Center for Japanese Art and Culture (ARC-iJAC), Art Research Center, Ritsumeikan University, supported by the Program for Asia-Japan Research Development Research on Creation and Development of Asian Arts Studies, Ritsumeikan University.
In his opening remarks, Professor Yoshio Nakatani--Chancellor of the Ritsumeikan Trust--stressed that the symposium was an excellent opportunity to promote research, academic exchange, and friendship with Tsinghua University and Chinese scholars.
Furthermore, Professor Yuping Ni--Associate Dean of the School of Humanities, Tsinghua University--expressed his hope to deepen the partnership and comprehensive cooperation between both universities, emphasizing the significance of humanities, besides natural sciences, in times of crisis and complex challenges such as the global pandemic.
During the symposium, research teams of both universities presented their perspectives and research activities in digital humanities.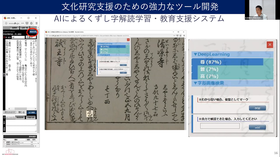 Professor Takaaki Kaneko introduced the ARC Model of Digital Archiving, the center's representative databases, and how its online research environment facilitates born-digital style research.
He also explained powerful tools developed by the ARC to aid digital humanities research, such as the educational transcription system with an AI-enabled deciphering support function for the Japanese cursive script known as kuzushiji.
Furthermore, Professor Keiji Yano introduced the construction of a WebGIS-based portal database of maps and a system to compare Rakuchū rakugai-zu byobu--folding screen paintings of scenes in and around Kyoto--with maps of the present and the past.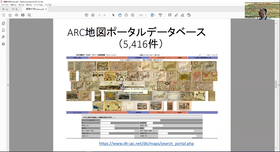 Concluding the symposium, Professor Koichi Hosoi--Director of the Art Research Center--expressed his anticipation for the birth of new international joint research styles on diverse topics fueled by digital technology as both universities join efforts in digital humanities research.
Many people from Tsinghua University, Ritsumeikan University, and other universities and research institutions attended the symposium and engaged in lively discussions.
"I am very impressed that so many people are studying Japanese culture through databases and digital archives," commented Chancellor Nakatani on attending the symposium and expressed his anticipation for many new research findings to emerge from these archives.
Professor Takahiro Nishibayashi, who led the planning and organization of the symposium, expressed his gratitude to all the speakers, participants, and staff involved. "Taking the humanities as a starting point, I strongly hope that research exchange between both universities will be further deepened and involve other fields such as digital humanities," said Professor Nishibayashi.
The second joint academic symposium marked a meaningful occasion to reinforce the collaboration between both universities while highlighting the advance in humanities research on both sides with the progress in digital technology.
We look forward to further strengthening our partnership with Tsinghua University by expanding the scope of our research exchange to other research fields in the future.
*To prevent the spread of COVID-19, this event was held online via Zoom.