Special Exhibition "Kimono no Mushiboshi" (「着物の虫干し展」) at the Nagae Family Residence, a Designated Tangible Cultural Property by Kyoto City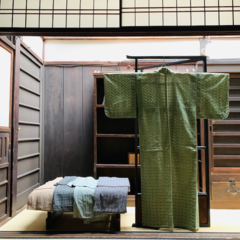 Event Dates: Saturday, March 20 & Sunday, March 21, 2021
The Art Research Center (ARC) is pleased to announce the special exhibition "Kimono no Mushiboshi Ten" (「着物の虫干し展」) at the Nagae Family Residence, a designated tangible cultural property by the city of Kyoto.
Exhibited are daily-used kimonos that are taken from the storehouse and air-dried in the sun - a traditional Japanese practice called Mushiboshi - to prevent the clothes from the damage of insects and mold.
In the space of the traditional Kyo-machiya (wooden townhouse), kimonos from the early Showa period and tools of the trade and daily life of that time are shown. At the same time, there will be an exhibition of the research in digital archiving by Ritsumeikan University in a separate tatami room.
Organised by: Hoosiers Corporation
Co-organised by: Art Research Center, Ritsumeikan University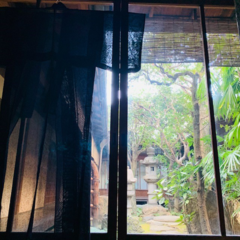 ★ Background
Designated as a tangible cultural property by the city of Kyoto, the Nagae Family Residence has been restored to how it looked when the building was constructed 150 years ago. The Nagae family used to be merchants of the kimono fabric. After Ritsumeikan University was donated a collection of items belonging to the Nagae Family Residence, the Art Research Center (ARC) began to digital-archive this collection and subsequently became involved in the planning and managing of the Byobu Matsuri (folding screen festival) held at the Nagae Family Residence during the Gion Festival, as well as other activities at the residence.
★ Advance booking required
Reservations are accepted by e-mail.
Please book a time slot: ①10:00 ②11:00 ③12:00 ④13:00 ⑤14:00 ⑥15:00
Each session will be limited to 5 groups (maximum 10 people). Please provide the following information for your reservation:
Name, number of people, address, phone number.
★ Special privileges only at this exhibition
Photography is permitted within the rules.
You will receive an original postcard of the Nagae Family Residence, with a choice of five different motives!
★ Inquiries & registration
E-mail: nagaeke@hoosiers.co.jp
Phone: 075-353-7512 (weekdays only)
Fax:075-353-7513