Digitized Collection of Rijksmuseum Volkenkunde, Leiden (the Netherlands) has been released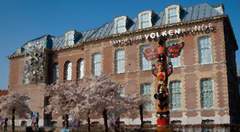 As part of our project to digital-archive overseas artworks, the Art Research Center (ARC) is pleased to announce that all of the digitized Japanese cultural materials in the collection of the Rijksmuseum Volkenkunde, Leiden (the Netherlands), including ukiyo-e prints, copperplate prints, and early Japanese books, have been released with the approval of the museum. This time, the published materials comprise mainly paper-based printed and painted materials.
https://www.arc.ritsumei.ac.jp/lib/vm/RV/
As is well-known, the Rijksmuseum Volkenkunde (National Museum of Ethnology), Leiden, is home to an extensive collection of Japanese artifacts comprising the collections of Philipp Franz Balthasar von Siebold, Jan Cock Blomhoff (Head of the Dutch East India Company in Dejima), and others. Since the Netherlands was the only country in Europe that traded with Japan during the Edo period, many Japanese collections have been accumulated there. Hence, many researchers of Japanese culture visit the museum to study its collection.
While the museum's collection is also available through the collection database of the Dutch Nationaal Museum van Wereldculturen, organized along with two other Dutch museums, the ARC's database now provides centralized access for the Japanese to the materials of Rijksmuseum Volkenkunde, Leiden. For each of the materials, there is a button to access the Nationaal Museum van Wereldculturen directly so that explanatory data in the original database can be viewed with a single click. At the same time, the materials can be accessed via the ARC's Portal Database, allowing you to compare them with those from other institutions.
We hope that you will find this information useful.