The Katayama Family's Noh Theater Video shown at Kyoto Station & Yamashina Station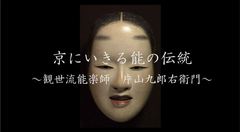 As one of the traditional Japanese performing arts, Noh Theater - or nohgaku - has been established in Japan for more than 600 years and is designated as a UNESCO Intangible Cultural Heritage. Often based on tales from traditional Japanese literature, nohgaku integrates masks, costumes, and various props in a dance-based performance which requires highly trained actors and musicians.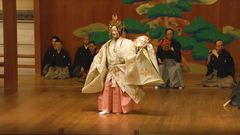 To preserve and disseminate nohgaku culture, the Art Research Center has been working with the Katayama Family, who holds an invaluable position as nohgaku performers in Kyoto, to film and digitally archive their performances for the last 20 years. The Katayama Family has not only been contributing immensely to the preservation of this intangible cultural property but has also been protecting tangible assets such as nohgaku masks and costumes.
The COVID-19 pandemic has, unfortunately, resulted in the cancellation of an annual public Noh performance by the Katayama Family at the Kyoto Station Building this year.
Therefore, master's students of Digital Humanities for Arts and Cultures, the Graduate School of Letters, Ritsumeikan University, have completed a promotional video about nohgaku which is currently being shown at Kyoto Station and Yamashina Station until September 6, 2020, in cooperation with the Art Research Center, the Katayama Family Foundation for the Preservation of Noh and Kyoto Dance and the West Japan Railway Company.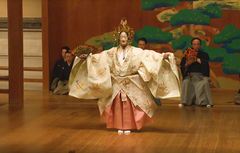 Location & Period of Video Screenings
Kyoto Station and Yamashina Station:
August 22 - September 6 (without audio)
Kyoto Station Building (the station square, in front of the stairs at the east side entrance of Porta Mall):
August 7 - September 6 (with audio)
For details on the Katayama Family Foundation for the Preservation of Noh and Kyoto Dance: http://www.arc.ritsumei.ac.jp/k-kanze/
Official Youtube channel of the Katayama Family Foundation for the Preservation of Noh and Kyoto Dance:
https://www.youtube.com/channel/UCBuoGcS3O46XcaNjePQnfeA/videos
Kyoto Kanze Noh Theater: http://www.kyoto-kanze.jp/