Special Exhibition "KIMONO: Fashion Identities"
A special exhibition "KIMONO: Fashion Identities", which the Art Research Center (ARC) has contributed to, is now open at the Tokyo National Museum.
This exhibition traces the kimono, one of Japan's most iconic symbols, from its inception some eight hundred years ago to its role today as a symbol of Japanese culture and is the largest kimono exhibition in the history of the museum.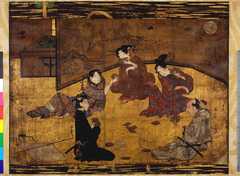 "Karuta asobi zu", a painting from the ARC's Fujii Eikan Bunko Collection, is exhibited during the first half of the exhibition (June 30 - July 26). This is a great opportunity to see the painting in real life. ("Karuta asobi zu" in the ARC Database: https://www.dh-jac.net/db1/resource/eik3-1-04/eikan/)
Moreover, Natsuko Takasu, one of the ARC's Visiting Collaborative Researchers, has contributed to the exhibition. Her contribution includes writing a column in the exhibition catalog, creating the Taisho-Meiji era style kimono coordinates and coordinating overseas collectors' kimono, and providing some decorative items for display. The coordinated kimono styles, matched with accessories such as han-eri, obi, and obi-dome, make up a beautiful art form.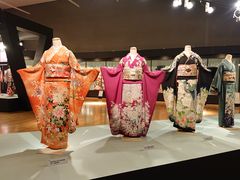 Please note that all visitors are required to make online reservations in advance due to social distancing.
[General Information]
KIMONO: Fashion Identities
Period: June 30-August 23, 2020 (closed on Mondays (except for August 10) and August 11)
(First half: June 30-July 26/Second half: July 28-August 23)
Hours: 9:30-18:00
Venue: Heiseikan, Tokyo National Museum (Ueno Park)
Admission: Adults 1700 yen, University students 1200 yen, High school students 900 yen
*Please note that all tickets will be timed-entry tickets (timed tickets) and shall be purchased online in advance. Museum members and other visitors eligible for free admission shall also make advanced reservations online.
https://www.tnm.jp/modules/r_free_page/index.php?id=1987
[Organizers] Tokyo National Museum, The Asahi Shimbun, TV Asahi Corporation, Agency for Cultural Affairs, Japan Arts Council
[Sponsors] Takara Leben Co., Ltd., Takenaka Corporation, Toppan Printing Co., Ltd., Toyota Motor Corporation
[Support] Kobe Fashion Museum
(Photo credit: Natsuko Takasu)